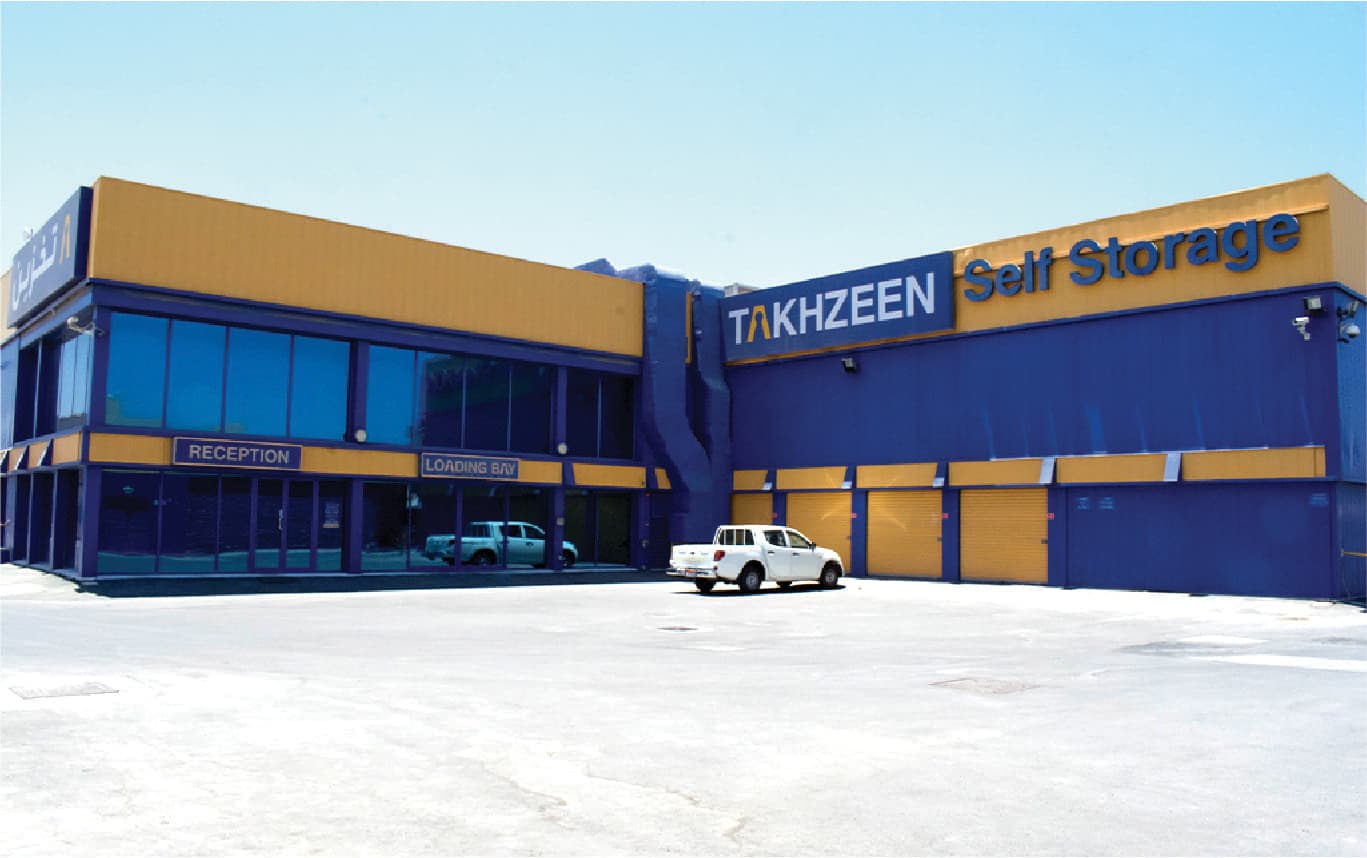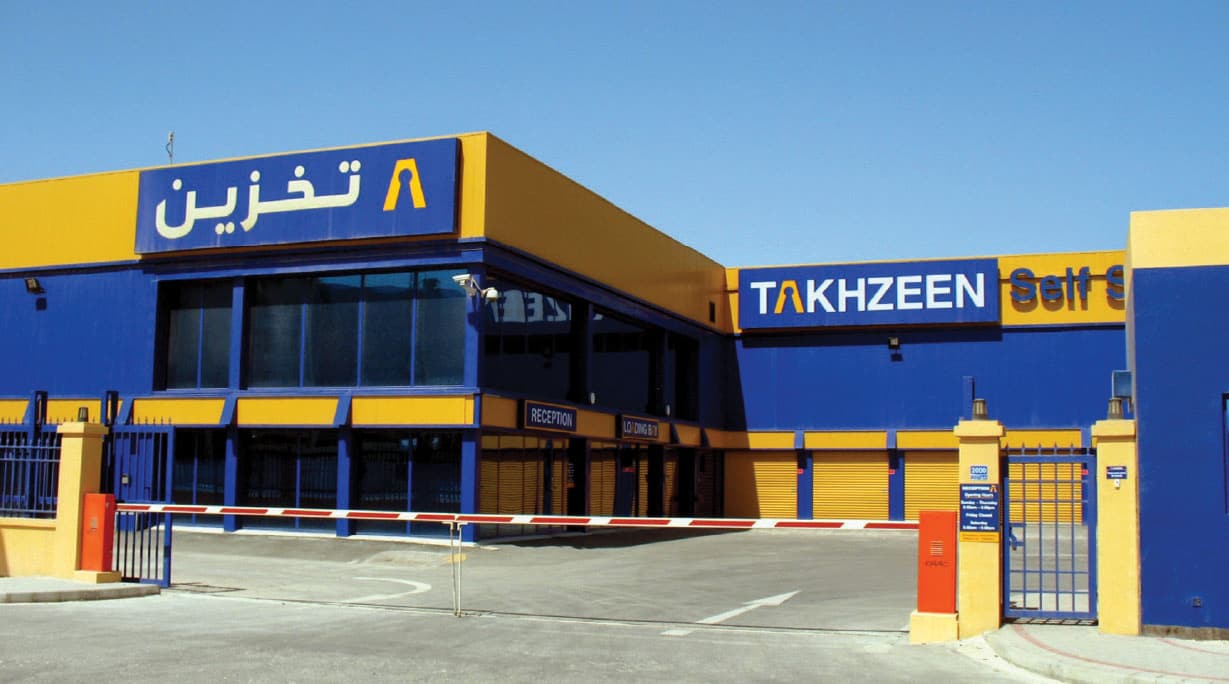 Takhzeen: Leading the Way in Self-Storage Solutions
Welcome to Takhzeen, the pioneering self-storage facility in the Kingdom of Bahrain. As the Kingdom's premier storage company, we specialize in providing top-notch personal and business storage solutions.
With Takhzeen, you can trust that your belongings are kept in a clean and secure environment. Our climate-controlled storage rooms are available in various sizes, ensuring optimal preservation. From 2.5 to 220 square meters, we have the perfect space for your needs.
Our facilities offer flexible tenancy terms, starting from just one month. With state-of-the-art security measures, round-the-clock access, and outstanding support services, we prioritize your convenience and peace of mind.
Choose Takhzeen for unmatched self-storage expertise. Experience our commitment to excellence as we redefine storage solutions in Bahrain and the Middle East.
Vision
At Takhzeen, our vision is to revolutionize the self-storage industry in the Kingdom of Bahrain. We aspire to be the unrivaled leader, setting the benchmark for excellence and innovation in storage solutions.
We envision a future where individuals and businesses can rely on Takhzeen as the go-to destination for their storage needs. By delivering exceptional customer experiences, state-of-the-art facilities, and unparalleled convenience, we aim to redefine the way people perceive and utilize self-storage.
With our unwavering commitment to cleanliness, security, and personalized service, we strive to become the trusted partner for individuals seeking a safe and reliable space to store their valued belongings. We also aim to be the preferred choice for businesses requiring efficient and flexible storage solutions for their inventory and assets.
Through continuous improvement and adaptation to the ever-evolving needs of our customers, we are dedicated to remaining at the forefront of the industry. Our vision encompasses not only achieving excellence in storage services but also being a catalyst for positive change and growth within the communities we serve.
Together with our valued customers, we are building a future where Takhzeen is synonymous with unmatched quality, convenience, and trust. Our vision propels us to innovate, excel, and elevate the self-
storage experience for all, positioning Takhzeen as the epitome of storage excellence in the Kingdom of Bahrain and the Middle East.
Mission
Takhzeen is on a mission to revolutionize the self-storage industry in Bahrain. Our purpose is to provide individuals and businesses with unparalleled storage solutions that cater to their unique needs and empower them to reclaim their space, streamline their operations, and simplify their lives.
Our mission is guided by three core principles:
Exceptional Customer Experience: We prioritize delivering exceptional service and ensuring that every interaction with Takhzeen exceeds customer expectations.
Secure and Reliable Storage: We take the security and protection of your belongings seriously. Our state-of-the-art facilities are equipped with advanced security measures, including surveillance systems, access controls, and round-the-clock monitoring.
Flexibility and Convenience: We understand that storage needs can vary greatly. That's why we offer a range of storage unit sizes and flexible rental terms to accommodate your specific requirements.
Quality Customer Service
Welcome to our website! At TAKHZEEN, we take immense pride in our dedication to providing exceptional customer service. From the moment you engage with us, you'll experience our unwavering commitment to ensuring your satisfaction.
Quality customer service is at the core of our business philosophy. We firmly believe that building strong, long-lasting relationships with our clients begins with delivering value that exceeds expectations. Our approach is centered around earning and maintaining your trust, which forms the foundation of our partnership.
From the top down, every member of our team is driven by the shared goal of providing you with the highest level of customer service. Our team is composed of experienced professionals who are passionate about their work and strive to deliver excellence in every interaction.
We understand that each client is unique, with specific needs and expectations. That's why we take the time to listen carefully to your requirements and tailor our services to meet your individual needs. We believe that open and transparent communication is key to understanding your goals and delivering the results you deserve.
In addition to our personalized approach, we are committed to continuous improvement. We consistently evaluate our processes and seek feedback from our clients to ensure we are consistently meeting and exceeding your expectations. We believe in staying ahead of industry trends and embracing innovative solutions to deliver the highest quality of service.
Our dedication to quality customer service extends beyond the initial engagement. We strive to build long-term relationships with our clients, becoming a trusted partner in your success. We are always available to address any concerns, provide ongoing support, and adapt our services to meet your evolving needs.
At Takhzeen, we view every interaction as an opportunity to demonstrate our commitment to quality customer service. Whether you're a new client exploring our services or a returning customer seeking ongoing support, we are here to serve you with the utmost professionalism, expertise, and integrity.
Thank you for considering Takhzeen self-storage as your trusted partner. We look forward to the opportunity to deliver exceptional value and exceed your expectations with our unparalleled customer service.
Professionalism
Professionalism is at the core of everything we do. From the moment you engaged with us, we strive to deliver a seamless experience that reflects our dedication to excellence. Our team of experts is well-versed in the art of planning, ensuring that every aspect of your storage needs is carefully considered.
We understand that your time is valuable, which is why we place a strong emphasis on being quick and efficient in serving you. Our streamlined processes and industry expertise enable us to handle your storage requirements promptly, without compromising on the quality of our services.
Organization is key to providing top-notch service, and we pride ourselves on maintaining a well-structured approach. We pay meticulous attention to detail, ensuring that every step of the storage process is executed with precision. By staying organized, we minimize the risk of errors and ensure that your possessions are handled with the utmost care.
Responsibility is a fundamental value that guides our actions. We take full ownership of our commitments and understand the trust you place in us to safeguard your belongings. Our team is highly trained and dedicated to upholding the highest standards of accountability throughout the entire storage journey.
When you choose Takhzeen Self Storage, you can rest assured that your storage needs will be met with the utmost professionalism. We are committed to exceeding your expectations by delivering reliable, efficient, and organized services that are tailored to your specific requirements.
Thank you for considering Takhzeen Self Storage for your storage needs. We look forward to the opportunity to serve you and demonstrate our unwavering commitment to professionalism.
At Takhzeen Self Storage
We are a highly professional team dedicated to delivering exceptional storage solutions and unparalleled customer service.
At Takzheen Self Storage, we firmly believe in the power of teamwork. Our team members work seamlessly together, leveraging their unique skills and expertise to provide the best possible outcomes for our clients and our business. By fostering a spirit of collaboration, we are able to achieve remarkable results and exceed our clients' expectations.
Personal accountability is a cornerstone of our values. Each member of our team takes full ownership of their responsibilities, striving for excellence in every aspect of their work. We understand that by being individually accountable, we contribute to the overall success of our organization. This unwavering commitment ensures that our clients receive reliable and trustworthy service at every interaction.
Respect is deeply ingrained in our work culture. We treat each other with utmost professionalism, recognizing and valuing the diverse perspectives and experiences that each team member brings. By creating an environment of mutual respect, we foster a supportive atmosphere where everyone feels valued, heard, and appreciated. This enables us to better understand our clients' unique needs and provide tailored solutions that exceed their expectations.
Above all, we acknowledge that positive attitudes are paramount in creating genuine value for our clients and our business. We approach every task with unwavering enthusiasm, optimism, and a relentless commitment to delivering excellence. Our positive mindset empowers us to overcome challenges, find innovative solutions, and continuously improve our services.
At Takzheen Self Storage, we go the extra mile to ensure that our clients' storage needs are met with the highest level of professionalism and efficiency. Whether you require short-term storage during a transition or a long-term solution for your business, our team is here to guide you every step of the way. We strive to cultivate long-lasting relationships with our clients based on trust, reliability, and unmatched service.
Join us Takzheen Self Storage, where our unwavering dedication to unity, personal accountability, respect, and positive attitudes converge to create an unparalleled storage experience. Contact us today to discover more about our comprehensive services or to discuss your unique storage requirements. We eagerly anticipate the opportunity to serve you with the utmost professionalism and excellence.
Why Takhzeen?
At Takhzeen, we understand the importance of making storage easy and hassle-free, just as it should be. We offer a comprehensive range of services that cater to your storage needs, ensuring a smooth and convenient experience from start to finish.
When you choose Takhzeen, you can expect the following benefits:
Easy Booking Process: Our streamlined booking process is designed to ensure that you have everything you need. Our checklist guides you through the necessary steps, making sure you bring all the required items.
Secure Packaging: We provide high-quality packing materials and offer a product gallery to assist you in boxing your belongings securely. Your items will be well-protected during transportation and storage by our trusted moving companies.
Convenient Delivery Options: You have the choice to either deliver your packed items to our facility or request a moving service from the trusted list for the companies we have. We aim to make the process as convenient as possible for you.
Professional Assistance: We prioritize the safety and security of your items, ensuring they are properly handled and protected throughout their stay with us.
24-Hour Access: We provide round-the-clock access to your storage unit, allowing you to retrieve your belongings whenever you need them. Your convenience is our priority.
In addition to these core services, we take great pride in upholding our business competencies, which are:
Care: We value the discretion and safekeeping of your possessions. Our facilities are equipped with state-of-the-art security measures, including computerized after-hours access, CCTV cameras, and alarms on all access doors and exits. Each storage room is fitted with an alarm for your peace of mind.
Customer Service: At Takhzeen, we are committed to delivering the highest level of service quality. Our highly trained representatives act as storage experts, dedicated to meeting and exceeding your requirements. Your satisfaction is our top priority.
Convenience: Your storage space is accessible 24/7, ensuring that you have the flexibility to manage your belongings at any time. During standard business hours, we offer additional services such free access to large trolleys and jack pallet. We also provide a wide range of packaging materials to meet your specific needs.
Customization: We understand that storage needs vary, which is why we offer a range of storage sizes with flexible leasing time frames. You only pay for the duration that you utilize the storage room, ensuring cost-effectiveness and flexibility.
Climate Control: Our storage facilities not only prioritize cleanliness and safety but also maintain climate control. This ensures that your items are protected from extreme temperature variations, guaranteeing their well-being.
Choose Takhzeen for a seamless and professional storage experience. We are committed to providing you with the highest level of service, convenience, and security for all your storage needs.
We're a small, close-knit family of employees; we share the same values and work ethic.